Water:Bio:Sphere "Lakes and Littoral Zones"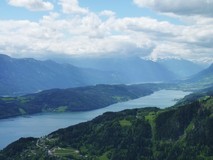 Lakes and littoral zones are home to a great variety of habitats with a species-rich fauna and flora. They are highly popular with people seeking rest and relaxation on bathing and boating trips or on hikes. It goes without saying that lakes will only be attractive as habitats and leisure areas as long as they remain ecologically sound.
 
In the past, lakes had mainly to cope with material contamination which, in extreme  cases, caused bodies of water to "die". Meanwhile hazards have become more complex: contaminant influx – mostly caused by the agricultural use of the surrounding land – continues to have a detrimental effect on smaller, stagnant bodies of water, whereas the riparian zones of our larger lakes are being progressively changed and in part destroyed by human intervention. It is the very beauty of the lakes that poses the greatest threat, considering  the keen demand for building plots and recreation areas in close proximity to lakes. It follows that unspoilt lakeshores are becoming increasingly rare and that, in this day and age, they are ranking among endangered habitats.

The loss of habitats is accompanied by a decline in characteristic species of fauna and flora –highly adapted species being even more seriously affected by the impact of climate change. For the remaining near-natural zones, recreational use is becoming more and more of a serious problem, considering that a constantly growing number of  people looking for rest and recreation is zooming in on constantly shrinking near-natural zones.  Responsible and considerate behaviour in natural surroundings will reduce the negative impact on fauna, flora and habitats. Being  familiar with habitats and their characteristic fauna and flora is a fundamental prerequisite for achieving this aim.
Water:Habitat Brochure: "Lakes and Littoral Zones" --> (available in German only)