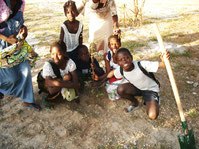 Twenty children from several local Naturefriends groups in Senegal attended a seminar organised by Naturefriends Senegal to learn about water, climate change, waste management/recycling and domestic shrub and tree species, which are of special importance along natural water bodies.
Under the seminar motto "Strengthen your environmental awareness", excursions were organised for hands-on experience  of environmental facts: The children learned about the impacts of climate change on the coast of Senegal and the role of water in ecosystems, got to know the most important domestic tree species and visited the waste treatment plant in Dakar.

Naturefriends Togo chose "Water and Biodiversity" as the title of their seminar in which 40 schoolchildren learned about water and wetland habitats, with a special focus on gallery forests along rivers, which have been a major working area of Naturefriends Togo for many years. The seminar included a visit to a replanted gallery forest, and tree nurseries were founded in a number of schools to provide saplings for further planting along rivers and wetlands in the vicinity of each of the schools.